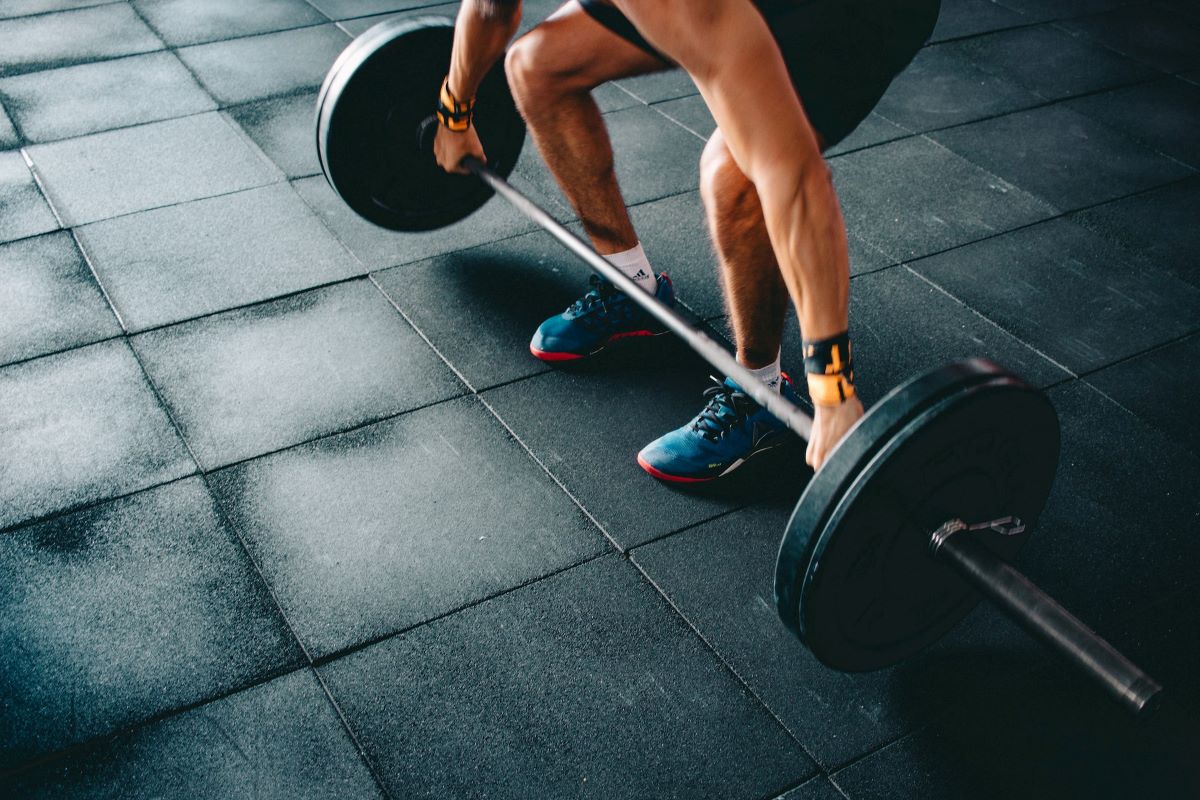 We are reader-supported. When you buy through links on our site, we may earn an affiliate commission.
Whether you're finishing your basement with the whole nine yards or just want to make it a little more liveable, you'll need some proper flooring. Plain cement isn't good for your joints and is very cold. Adding rubber flooring for basements on top of the concrete can warm your space up and provide much-needed cushion.
This guide will help you decide if rubber flooring might be the perfect solution for your basement. Before you head to the store, you'll need to know the different types available along with the perks and drawbacks of installing this type of floor.
Types of Rubber Flooring
There are three main types of rubber flooring — each one installs slightly differently and has something unique to offer.
Tiles
Rubber tiles resemble puzzle pieces and assemble on your basement floor in much the same way. They fit together with small seams in between. The gaps can collect debris, but the pieces make repairs much easier. If a portion of the floor is damaged, pulling up one or two tiles and placing new ones in is easy.
Mats
Mats are large squares or rectangles of rubber that don't fit together like a puzzle. This is ideal if you only want rubber in a specific area of your basement, like a home gym. You won't cover as much space with this format, but you also don't have to deal with gaps between pieces.
Rolls
Rubber rolls are your best bet if you want to cover your whole floor in the most cost-effective manner. The rolls lay flush, leaving no noticeable seams. However, repairs are more complicated than with tiles.
Perks of Rubber Flooring for Basements
Unlike other materials, rubber flooring seems made for basements, bringing with it several unique benefits.
1. Easy Installation
Most basement flooring options are challenging to install on your own. Hardwoods, vinyl plank and tile typically require the help of a professional. However, rubber floors are easy for even beginner DIYers to tackle. For the best results, put down a layer of moisture barrier and then simply place the rubber floor on top. You don't even need to glue it down.
2. Resistant to Mold and Mildew
Rubber is a naturally waterproof material. As such, it will resist the growth of mold and mildew. However, without a moisture barrier underneath, you could still end up with water trapped below your rubber floors.
3. Plenty of Cushion
Concrete floors are hard underfoot, providing no support or spring back. Rubber floors are the ultimate in comfort. They offer the perfect surface for everything from crawling toddlers to heavy weight lifting, while still maintaining its shape and functionality.
4. Recyclable
Rubber is a recyclable and sustainable material. In fact, many rubber flooring options are made from recycled tires. Purchasing this type of flooring is good for your home and the planet.
5. Easy to Clean 
For the most part, you can keep your rubber floor clean with only water. Many cleaners are too acidic and could alter its color. If you do want a deeper clean once in a while, you can use a neutral pH detergent mixed with water. Dish soap works wonders for this chore.
6. Highly Durable
Kids, pets and everyday life are tough on most floors, like wood. However, rubber is extremely durable — one of the main reasons it's used for tires. This material can really take a beating. Plus, if you go with the rubber tile option, you can replace just one piece if something happens.
7. Good Sound-Proofing
Basements are a common location for kids' play areas or media rooms. However, they're also typically the most echo-centric spot in the house. Instead of listening to your children's screams and the base of the movie pumping throughout your home, let rubber flooring help you. Its wondrous texture absorbs sound, leaving you with a more peaceful atmosphere.
8. Prevents Falls
Another unique feature of rubber is its ability to prevent falls. You can get textured mats to improve this function further, though it's not absolutely necessary. Rubber even provides good traction when wet — another reason it's useful for tires.
Rubber Flooring Drawbacks
While rubber flooring for basements may seem like the perfect solution, you should be aware of the potential drawbacks of this type of product.
1. Limited Style Options
Even though rubber flooring has come a long way over the years, it still has a limited range of styles. You can find it in almost any color, and some mimic wood and stone. However, you can still tell it's rubber and not some other material.
2. Temporary Odor
If you've been inside a mechanic's shop, you know the powerful smell tires can radiate. Rubber flooring tends to give off a similar odor for a few weeks after installation. The scent goes away eventually, but you may need to take extra care to ventilate the area for a while.
Are Rubber Floors Perfect for Your Basement?
Rubber flooring for basements may not be the perfect choice for everyone. They can be on the more expensive side but are a great solution for basements that get damp. Rubber is also a cushy material for basement play areas or home gyms. Plus, installation is fast and easy without needing any professional help.
Did you enjoy this post? Join the Renovated community!
A house is more than just where you live. It's where you build a community. We'll give you all the latest trends you need to make your home your haven. Subscribe and never miss out!