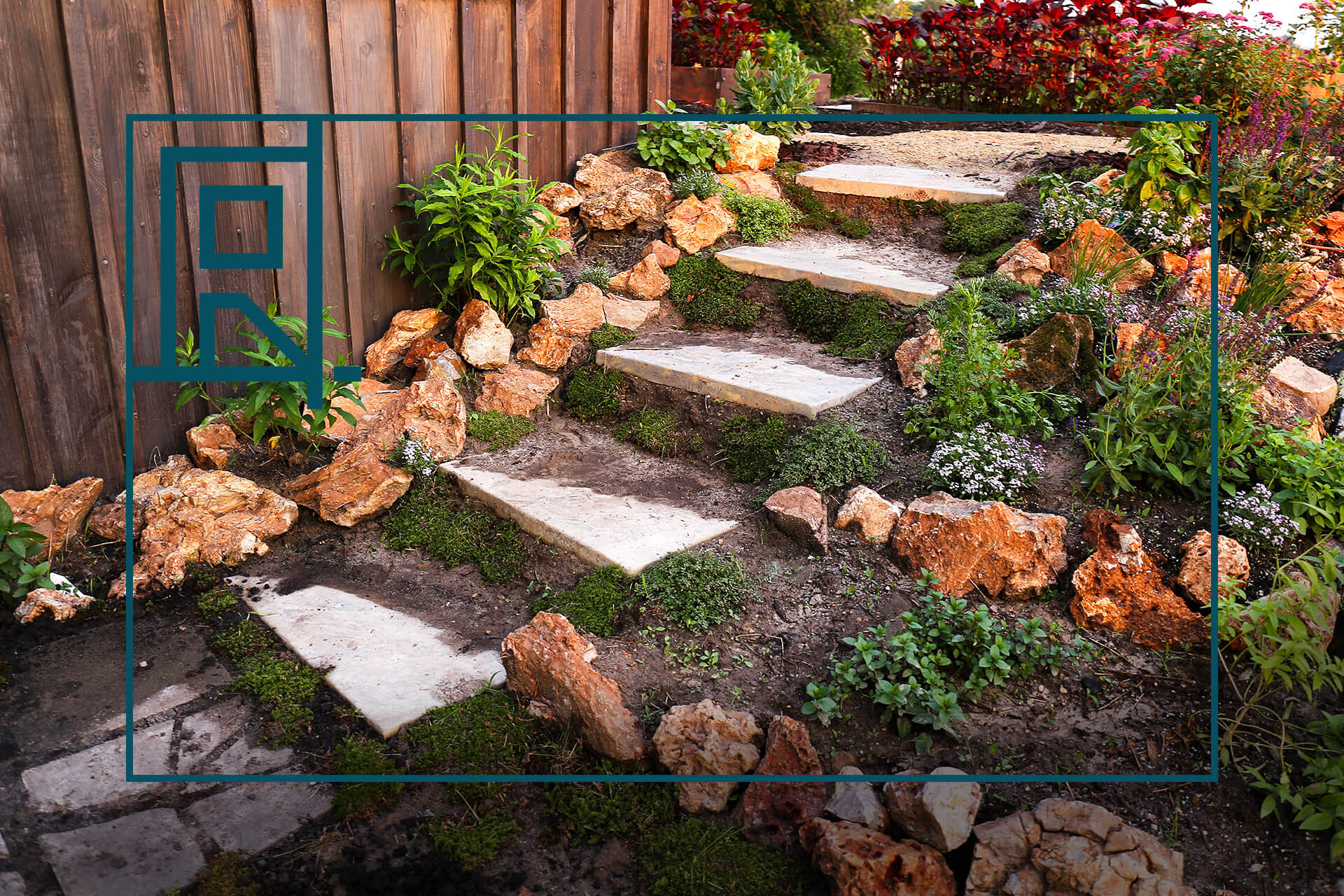 We are reader-supported. When you buy through links on our site, we may earn an affiliate commission.
Your backyard is a space to relax and entertain. With an unlevel yard, it can be tricky to incorporate certain design elements. Yet, there are still ways you can effectively enhance your curb appeal. Here are a few sloped backyard decor ideas to create a stunning space.
1. Add Stairs
This can be a simple way to take advantage of the elevation. It can make your space more visually appealing. Plus, then people have an easy pathway to enter inside. It can also help to define sections and create a more organized yard.
You can use wood or stone for the pathway, which blends better with nature. Also, consider planting flowers and vegetation alongside it. You can even dress up the gardens with small pebbles.
2. Use Design Elements That Accent the Slope
Instead of hiding the inclined areas, accent them within your design. For example, you can add a stone wall and fireplace. The lines in the materials can guide the eye along the slope. Brick siding can add a more rustic vibe, while marble provides a more elegant appearance.
Then add some seating and lighting to make the area more welcoming. The bottom of the dip is perfect for cozy chairs and a table.
3. Add Multiple Terraces
This is one of the best sloped backyard ideas for a larger area. Use the ascending height to build multiple terraces for a more organized space. For example, you can store bikes and toys on the top levels and then create a seating area on the bottom.
You can then decorate that section with potted plants and outdoor rugs. Wooden terraces can create a classic appearance and are better for the environment.
4. Add Some Flowers
Plants are a great way to make your backyard a cozy and relaxing space. Brightly colored flowers create a beautiful pop of color. They also help form a visual barrier between the base's slope and your patio. Have a trail of vegetation running down the incline.
Consider using raised garden beds to play off the landscape. Astrantia and Angeloni are great plants for your backyard.
5. Create a Fun Play Area
This is one of the best sloped backyard ideas if you have children. Turn your angled terrain into a kid's playground. Use the titled landscape to install a slide. You can then add a swing set and sandpit for extra fun. In addition, have mulch under the swings to keep your children safe.
Then place a few benches along with the corners to easily monitor your kids. If you live in a sunny area, incorporate a few umbrellas to enjoy the play space all season long.
6. Install an Above-Ground Pool
Pools are fun to cool off during the summer and spend quality time with the family. They're perfect for entertaining as well. If you have plenty of space and the budget, it can enhance your backyard.
Plus, the pool will make the slope appear less dramatic. You can then add lounge chairs and side tables for drinks. Surround it with trees and lush vegetation to create your tropical oasis.
7. Add a Deck
A deck can help level out your ground and give people a place to sit. Plus, they can prevent falls by minimizing tilted areas. Patios are great for enjoying coffee on a sunny morning or having a family meal. They provide the perfect space for hosting outdoor summer barbeques.
You can add lighting, plants and a swing bench to decorate your deck. Lanterns can be fun to brighten up the space and create a rustic atmosphere. String lights provide a more intimate setting if you have a cover or railing.
8. Design a Pond Area
With the angled terrain, you can create stunning water features. The pond's water can easily flow down the inclined landscape. You can also add rocks and plant colorful flowers along the side.
If you want to get even fancier, create a waterfall display. The pond is a beautiful way to add more visual appeal to the area and design a unique focal point.
9. Bring in Grass Alternatives
One of the biggest challenges with a sloped lawn is mowing it. This can be tricky and time-consuming. So, consider some low-maintenance alternatives. You can plant clover or creeping thyme to replace traditional grass. Then you can spend less time doing yard work and more time with your family and friends.
Here are some other good alternative options:
Ornamental grasses
Moss
Creeping Charlie
Sweet woodruff
Flower and shrub beds
10. Build a Shaded Seating Area
One of the benefits of an angled lawn is getting more shade. Create a covered seating area for when guests come over during the summer. Plus, it can give your kids a space to relax out of the sun.
Build a retaining wall from brick or reclaimed wood. Then place some deck chairs and tables for a comfortable, relaxing area. If you like to entrain, place the chairs facing each other to encourage conversation.
The Best Sloped Backyard Decor Ideas
Having an angled backyard can be a good thing. It gives you a chance to play with some unique styles and create a beautiful space. Consider some of these sloped backyard ideas to get started.
Did you enjoy this post? Join the Renovated community!
A house is more than just where you live. It's where you build a community. We'll give you all the latest trends you need to make your home your haven. Subscribe and never miss out!