We are reader-supported. When you buy through links on our site, we may earn an affiliate commission.
Winters can feel fierce for anyone, but the snowiest cities in the U.S. take it to another level. The next time you're dreading getting the snow shovel, imagine getting ready to plow a foot of fresh powder and count your lucky stars. The Great Lakes and mountains across the country can create some truly frigid conditions.
Whether you're looking to move to a city with enough snowfall for weekly sledding or want a heads up about where your job is taking you, it's good to know where snow is most commonly found. Check out this list of the snowiest cities in the U.S., based on NOAA data.
Top 10 Snowiest Cities in the US:
1. Syracuse, New York
Reading about New York dealing with lots of snow shouldn't come as a shock to anybody. People travel to New York City every year to get pictures in snowy Central Park and feel the snowflakes whip around them at the top of the Empire State building.
The real challenge lies further north. What might surprise you is that Syracuse tops the charts of not only the snowiest cities in New York, but also in the United States.
Why? Upstate New York residents can thank the impact of lake effect snow. In the Great Lakes region, cold air passing over the relatively warm waters of the lakes brings heavy snow — often producing 2-3 inches of fresh snow per hour.
The average annual snowfall is impressive. Syracuse typically sees 92 inches of snow each year from December to February alone. In the 2019 to 2020 winter season, Syracuse had a slight reprieve, with a total snowfall equaling 69.5 inches.
Although, as any native will tell you, winter lasts much longer than those three months. Make sure you brush up on your snow shoveling skills, otherwise you might find your car snowed into your garage in March or even April.
2. Sault Ste Marie, Michigan
People visit Sault Ste Marie, Michigan to get away from the fast city life and relax in a place surrounded by nature. Most often, that same nature is blanketed in snow, since the city normally gets 83.5 inches of snow per year.
In fact, February 2019 was the region's snowiest February in history. That month alone saw 45.1 inches, over half the normal expected for the entire winter.
The good news? Michigan residents manage to celebrate the heavy snowfall annually with a Winter Ice Festival each February. Visitors can enjoy ice carving competitions that make the most of frigid temperatures.
3. Muskegon, Michigan
Michigan makes its second entry on this list with Muskegon. Muskegon is known as one of the best lakeside cities in Michigan, so check it out as a potential place to live. Just be ready for the onslaught of lake-effect snow, a phenomenon common in cities surrounding the Great Lakes.
During the summer, enjoy splashing in Lake Michigan and walking through the numerous city parks. In the winter, prepare to face 76.2 inches of snow until May arrives.
The snowiest day in Muskegon history was January 10, 1982, when 22 inches of snowfall pounded the city. Residents also endured a temperature high of 5 degrees Fahrenheit.
4. Erie, Pennsylvania
Erie is close to the top of the list of snowiest cities in the US. Residents normally get 75.3 inches of snow per year, so don't move there without preparing yourself for plenty of nights by a roaring fire.
This city is no stranger to weather extremes. Sometimes the snow will be spread out over a series of months, but other times you might get four feet in 30 hours, depending on the weather conditions.
Fortunately for Erie residents, the 2019-2020 winter season was kinder to the city. By February 2020, Erie faced a relatively calm 58.4 inches of snow.
5. Caribou, Maine
Known as the most northeastern city in the US, Caribou sees 70.3 inches of snow every year, so the town is big on snowmobiles. In fact, visitors can ride 1,600 miles of trails in and around Caribou.
Of course, average snowfall doesn't always tell the full story. Winters can be harsh in Caribou when winter storms shower the city all at once. In January 2019, the city saw about 60 inches of total snowfall just in one month.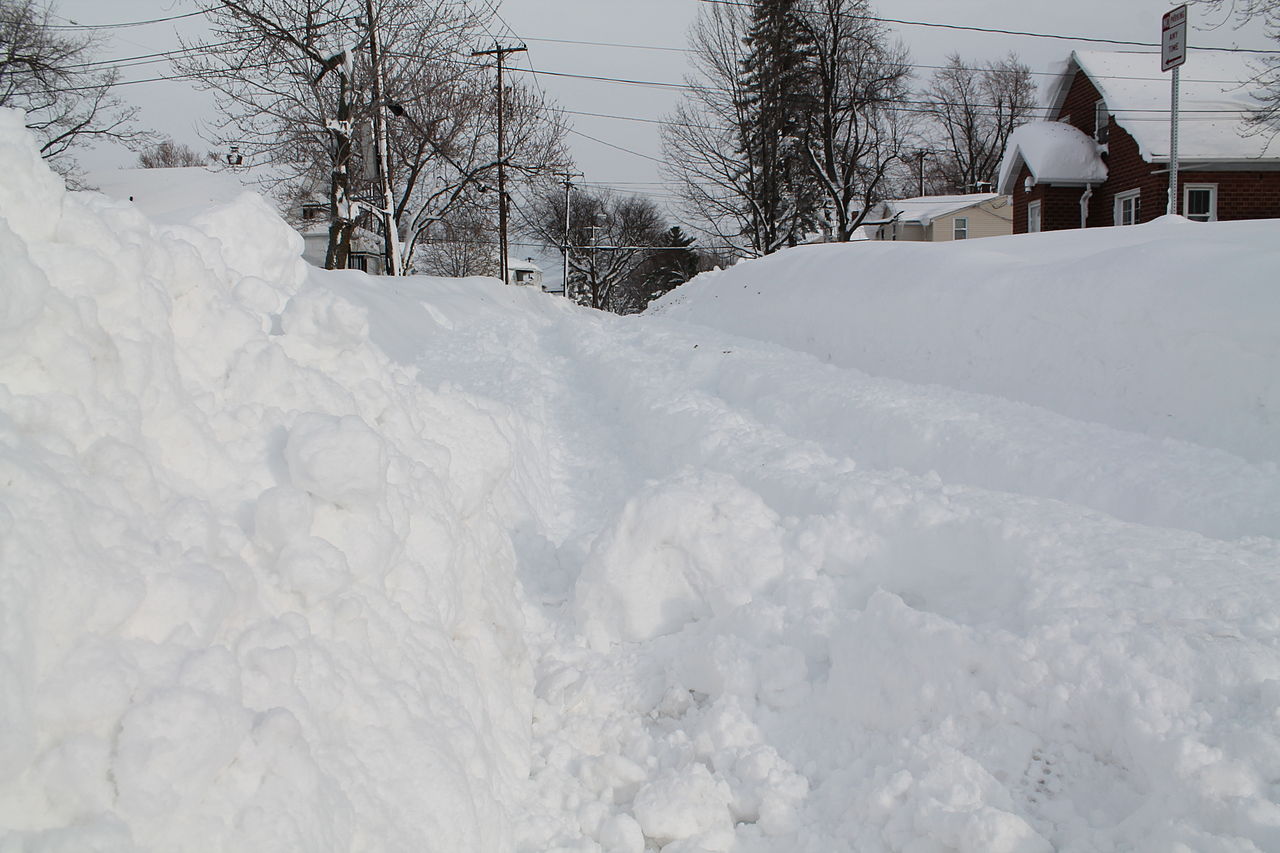 6. Buffalo, New York
Located in upstate New York, Buffalo is no stranger to snow. Residents get 70 inches per year, but fortunately, that doesn't stop them from exploring the city's extensive history or the growing food scene.
Syracuse may top the rankings, but don't be fooled. Just because Buffalo sits at number 6 doesn't mean it loses cred as one of the most ferociously snowiest cities in the U.S. It regularly experiences weather events that shake even seasoned residents.
The biggest snowstorm in Buffalo history was the Blizzard of '77. On January 28, 1977, the city suffered snowdrifts estimated to reach up to 30 or 40 feet and sustained winds up to 46 mph. Sadly, 29 people died in relation to the tragedy.
7. Flagstaff, Arizona
When you think of snowy cities, you probably picture the midwest or the northeast, but Arizona gets plenty of snow, too. Residents of Flagstaff expect 61 inches of snow every year, which balances out their hot summers and desert landscape.
Flagstaff's snowiest day in history occurred as recently as February 21, 2019. The city had 2.9 feet of snow on one day and was only 2 inches away from seeing the most snow in Arizonian history.
8. Juneau, Alaska
Count yourself lucky if you get to visit Juneau, Alaska. It has some of the best hiking in the country, plus tons of local breweries and opportunities to go whale watching.
If you stay there long-term, you'll shovel 60.1 inches of snow off your property every year, but some residents feel that's a fair trade for the surrounding beauty.
Unlike some of the other snowy cities on this list, Juneau had a relatively mild winter in 2019. It was actually the sixth straight winter that the city had seen below-average snowfall.
9. Elkins, West Virginia
Elkins is a small town with lots of charm. It's the perfect, quiet place to raise a family, especially if you're the outdoorsy type. You'll live with 59.9 inches of snow each year, but it's typically spread out over the winter months so it's easy to handle.
The snowiest winter in Elkins history occurred in 1995-1996. That season, the city had a total of 136.6 inches of snowfall, a dreadful amount of shoveling for any resident.
10. Grand Rapids, Michigan
Michigan's third and final entry on the list of America's snowiest cities is Grand Rapids, located East of Lake Michigan.
There's a lot to like about Grand Rapids. It's a large city that's become known for its breweries in recent years, but there are also lots of museums and outdoor activities to try.
However, be prepared for a hefty amount of winter weather. Anyone living in Grand Rapids knows that you'll see 57.5 inches of snow during the fall and winter seasons, which is perfect if you prefer to be bundled up and surrounded by snowy bliss.
The Top 10 Snowiest Cities in the U.S.
The cities that top this list are predominately located on the shores of Great Lakes, in the far North or in areas with high elevations. While 70+inches of snow each winter may sound scary, most residents will tell you they adjust to a life full of shoveling, snow days and driving precautions.
Living in one of the snowiest cities in the U.S. may require some guts, but the trade-off is worth it. In return, you get icy beauty, a long skiing season and holidays that typically look picture-perfect. Could you endure it?
Citations
1: NOAA National Centers for Environmental Information, State of the Climate: National Climate Report for February 2020, published online March 2020, retrieved on September 9, 2021 from https://www.ncdc.noaa.gov/sotc/national/202002/supplemental/page-3.
Editor's Note: This article was originally published in 2019. It has been updated for more recent snowfall data in September 2021.
Did you enjoy this post? Join the Renovated community!
A house is more than just where you live. It's where you build a community. We'll give you all the latest trends you need to make your home your haven. Subscribe and never miss out!