We are reader-supported. When you buy through links on our site, we may earn an affiliate commission.
Choosing a farmhouse kitchen table can be tricky. Farmhouse tables tend to be a combination of rustic and chic, some leaning more toward the elegant country estate while others recall a homestead of days past. Farmhouse tables are larger and sturdier than traditional kitchen tables, which can often result in a higher price tag. If you are looking for one but are budget-conscious, here are 10 of the cutest farmhouse kitchen tables for under $600:
1. Jasso Drop Leaf Farm Table
This rectangular top drop leaf table features a rustic-chic design that brings the perfect amount of country to your kitchen. Featuring a wood-glaze finish and white legs, it is both sturdy and elegant. This table will quickly become the spot for hosting Thanksgiving dinners and afternoon homework sessions. Buy Jasso Drop Leaf Farm Table: $559.99 at Wayfair.
2. Wheaton Trestle Dining Table
As one of the most affordable options out there, this kitchen table is available in two sizes. The natural hardwood finish is casual yet refined, and the neutral color can match any kitchen. The trestle support under the table is helpful for homes with multiple kiddos, ensuring a sturdy surface even on the most hectic of days. Buy Wheaton Farmhouse Trestle Dining Table: $330 at Target.
3. Sunny Designs Carriage House Table
This two-toned table is elegant enough for the modern farmhouse while still feeling down to earth. The mahogany wood finish is a gorgeous dark glaze, and the support boards are a faded white, making this table look like it's already been established in your home for years. Buy Sunny Designs Carriage House Table: $546 at Amazon.
4. Montauk Pine Table
For households looking for a more modern look, this farmhouse table is a winner. In addition to its trendy appearance, it is also a more environmentally friendly option than composite wood tables. This table features pine wood construction, all harvested from renewable forests. Buy Montauk Pine Solid Wood Dining Table: $439.99 at Wayfair.
5. Ornithogale Extendable Table
Add an extra touch of sophistication with this extendable table from Kelly Clarkson's furniture line. This two-toned table features a vintage linen base and comes with extendable leaves for those weekends when guests come to stay. Buy Ornithogale Extendable Dining Table: $519.99 at Wayfair.
6. Gerald Pine Oval Table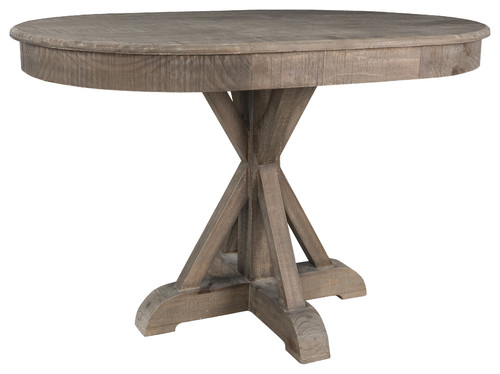 If a rectangular table is not ideal for your space, consider this pine oval table. The contemporary design will fit any kitchen style, and the oval shape makes it a more space-efficient option. This table is constructed of reclaimed pine wood, making it feel like it's been sitting in an old farmhouse for decades. Buy Gerald 47-Inch Pine Oval Dining Table: $401.60 at Houzz.
7. Sima Solid Wood Table
Another affordable option, this farmhouse table is constructed with all solid wood and features a neutral color palette. A light wood top and muted gray legs make it casual enough for the kitchen or formal enough for the dining room. Buy Sima Solid Wood Dining Table: $223.99 at Wayfair.
8. The Gray Barn Trestle Table
This farmhouse table features a refined two-tone finish, with a muted gray top and pine legs. Even better, it consists of sustainable wood, so you can feel good about investing in it. The trestle design makes it incredibly sturdy, and it can fit up to six people. Buy The Gray Barn 72-Inch Solid Wood Trestle Dining Table: $370.02 at Overstock.
Make Your Home Feel Rustic
Choosing from this list of farmhouse dining tables is sure to bring a country charm to your kitchen. Pick one that fits in with your home's aesthetic and enjoy plenty of mornings and nights spent gathering around the table for meals.
Did you enjoy this post? Join the Renovated community!
A house is more than just where you live. It's where you build a community. We'll give you all the latest trends you need to make your home your haven. Subscribe and never miss out!